What is a Mezzanine?
A mezzanine platform is a "middle" floor that is usually between two levels of a building or unit. Installing this platform structure will help to provide the owner with almost double the amount of storage space. These are free-standing structures, are great for industrial spaces because it allows the organization to use their area in an efficient manner.

They are durable and can withstand heavy amounts of weight. Thus, this makes it a suitable and sustainable solution for companies.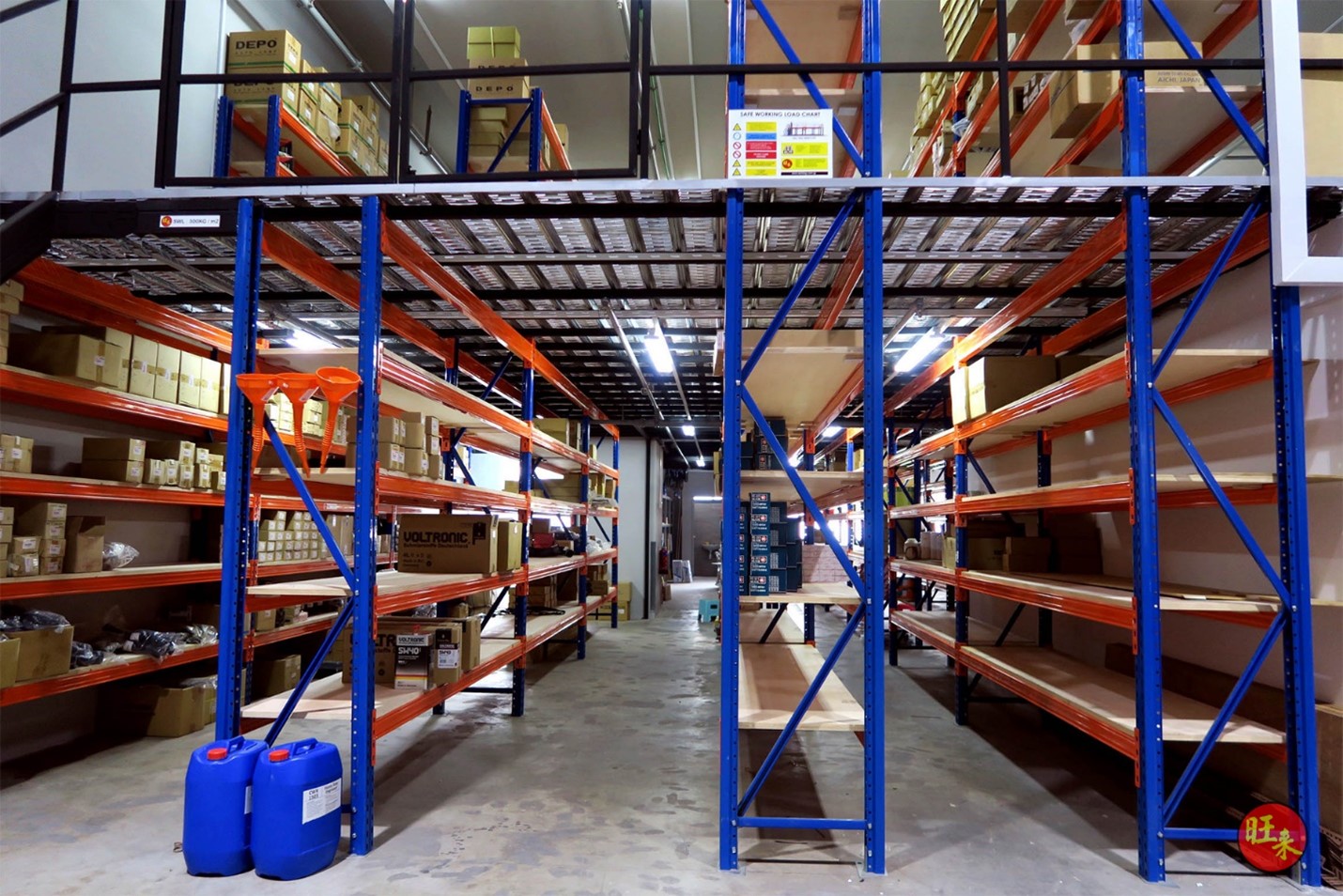 The picture above is an example of how one can maximise their storage space by installing an additional mezzanine level and combining it with shelving units.
Reasons Why Your Enterprise Needs It
Many companies in Singapore are restricted to small spaces that do not quite cater to their needs. With the limited area that companies must work with, every available space is critical.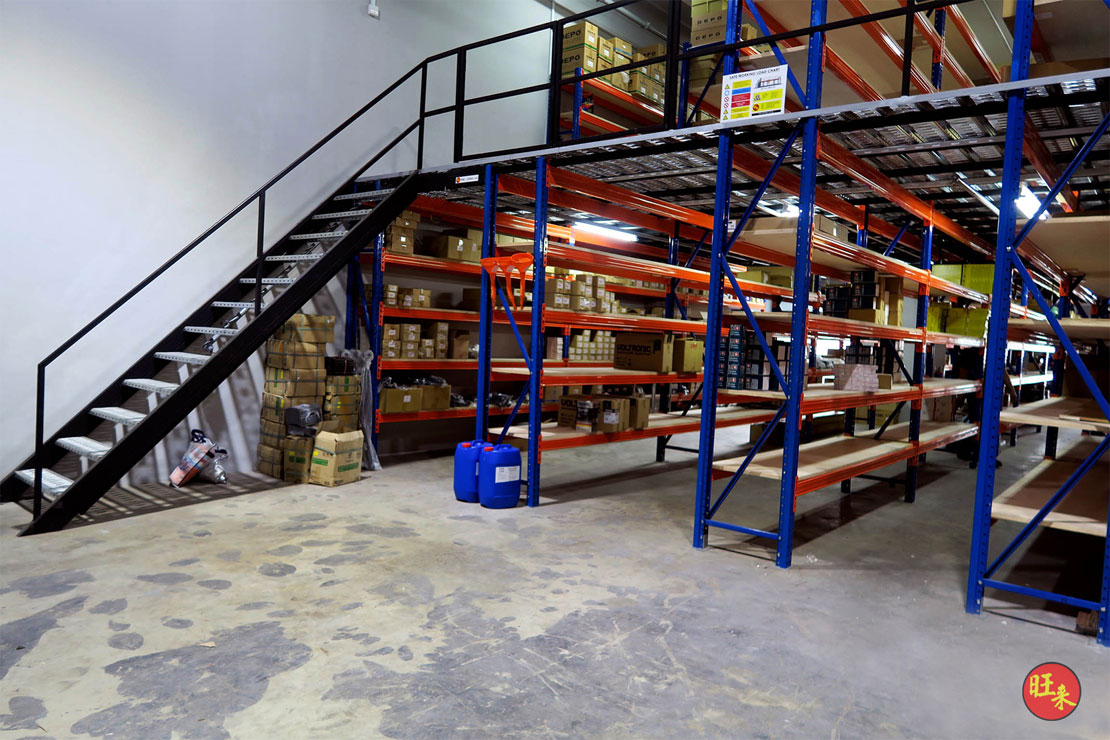 It is possible to make use of every inch of space in an economic way. This can be done by installing an integrated system using the additional platform and combining it with the racking system. This will then help to provide suitable and customized storage solutions for your organization.

The installation of the mezzanine platform will not only present you with a better solution to utilize your space, but it can also equip your company with the abilities to operate in a more cost-efficient and systematic way. There are flexible options such as installing extra walkways and heavy-duty structures, which can help to better suit the needs of your company's operations.

A platform can also be installed not only to provide total racking storage solutions, but it can also to double up as an office area for employees. This can help to increase the company's overall performance because this gives employees a bird's eye view of the company's daily activities. They will then be able to address it immediately if there are any difficulties with the company's production process.
The Different Types of Mezzanine Floors
WCT Racking Pte Ltd provides impressive platform types to suit the various needs of each corporation.
V3000 Mezzanine (Modular Structure – Ideal for Storage Planning)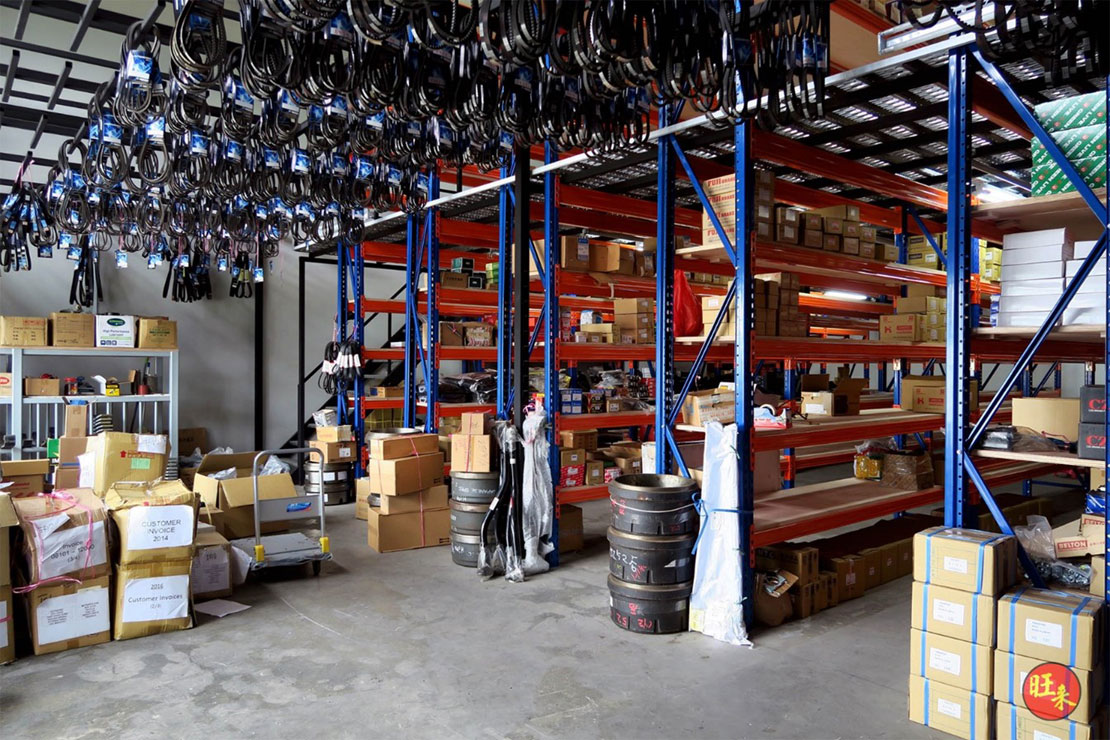 This platform type is our superior model that consists of uprights, beams, shelves, decks, handrails, stairs, and many more. This model type provides you with the ability to store and manage small or medium-sized goods in a systematic manner because of the large amount of space that the platform provides.

The model type will give you peace of mind as it includes a dedicated staircase with sturdy handrails to access the top floor. This will help to reduce injuries within the company and ensure that your employees are working in a safe environment. With this model type, you can also have the flexibility of installing an additional walkway to enable access for order picking.

In addition, this model type is ideal for advanced picking systems and it will enable companies to utilize the space in the most efficient manner.

V5000 Mezzanine (Column Free – Ideal for Condo Loft / Serviced Office)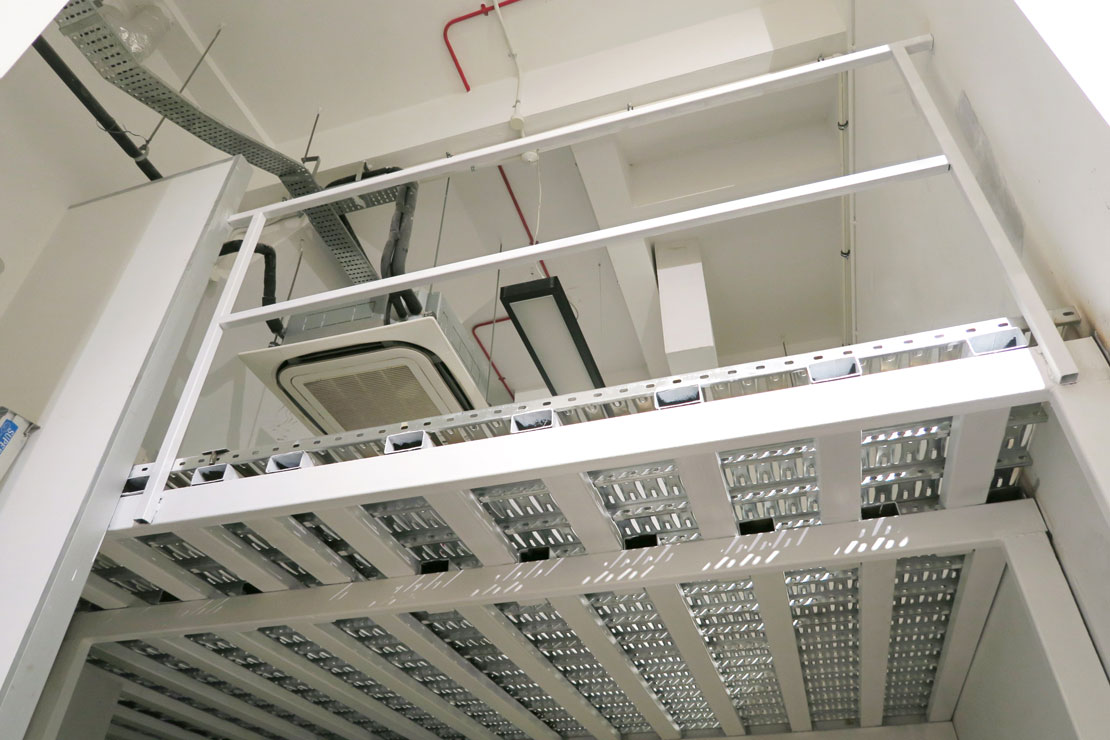 This platform type is our deluxe model. Knowing a well–designed space aids a growing business immensely. So, we carefully strategy a good size built-in platform, that is ideal for all commercial and office storage.

Using all galvanized and white paint coats as finishing, quality steel plank decking platform. Topped with a sturdy and strong ladder to maximize the ground floor usage as well.
V6000 Mezzanine (Fast and Hassle-Free Installation - Ideal for Commercial Storage)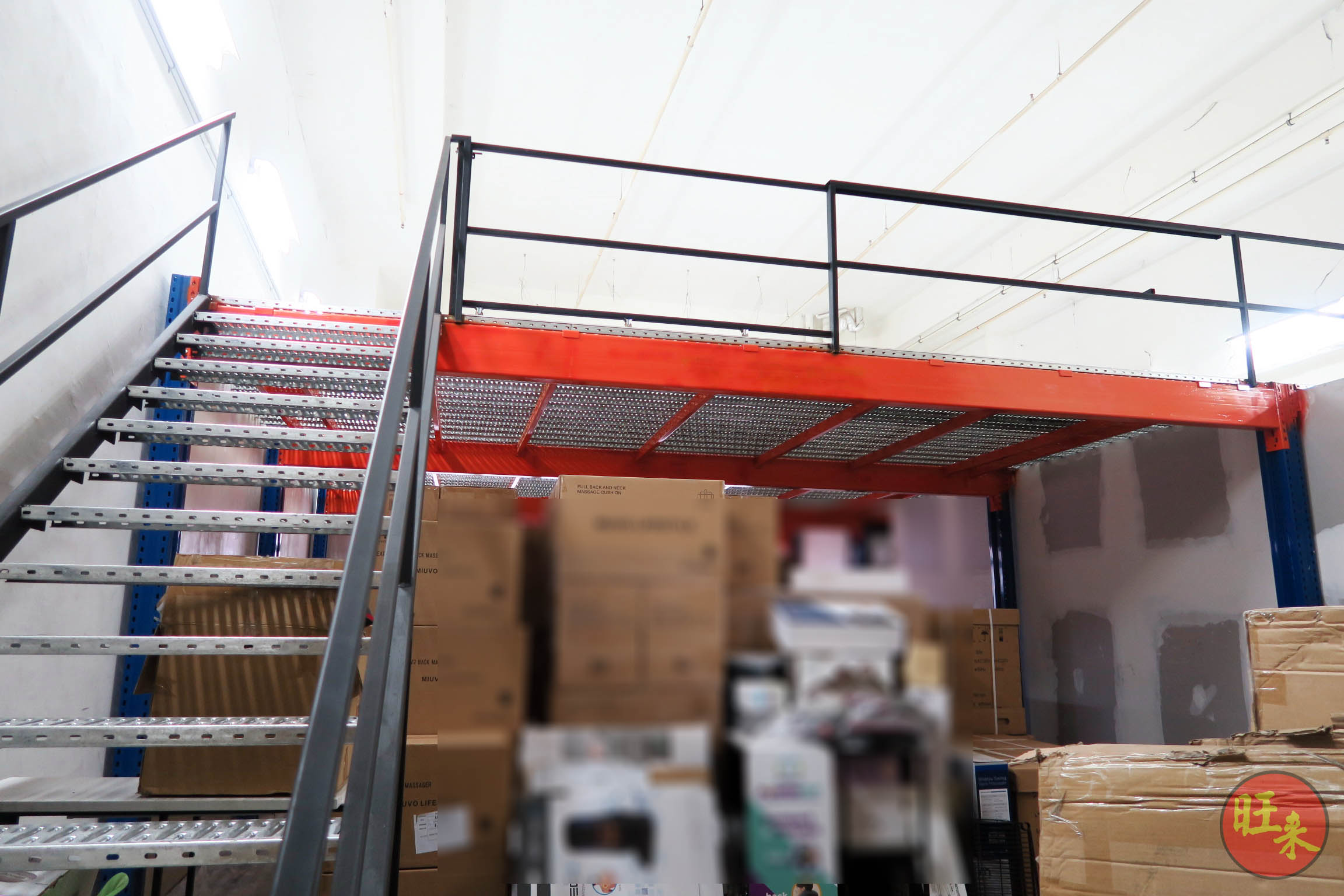 This platform type is our superior model having the ability to achieve fast installation to build (6m x 3m) steady structure.

No welding is used during the entire building up with column free and non-requirement of bolting to the ground for this modular structure.

Suitability of using different decking material, having no GFA concern for storage usage.
V8000 Mezzanine (Column Free – Length Span to 10metre)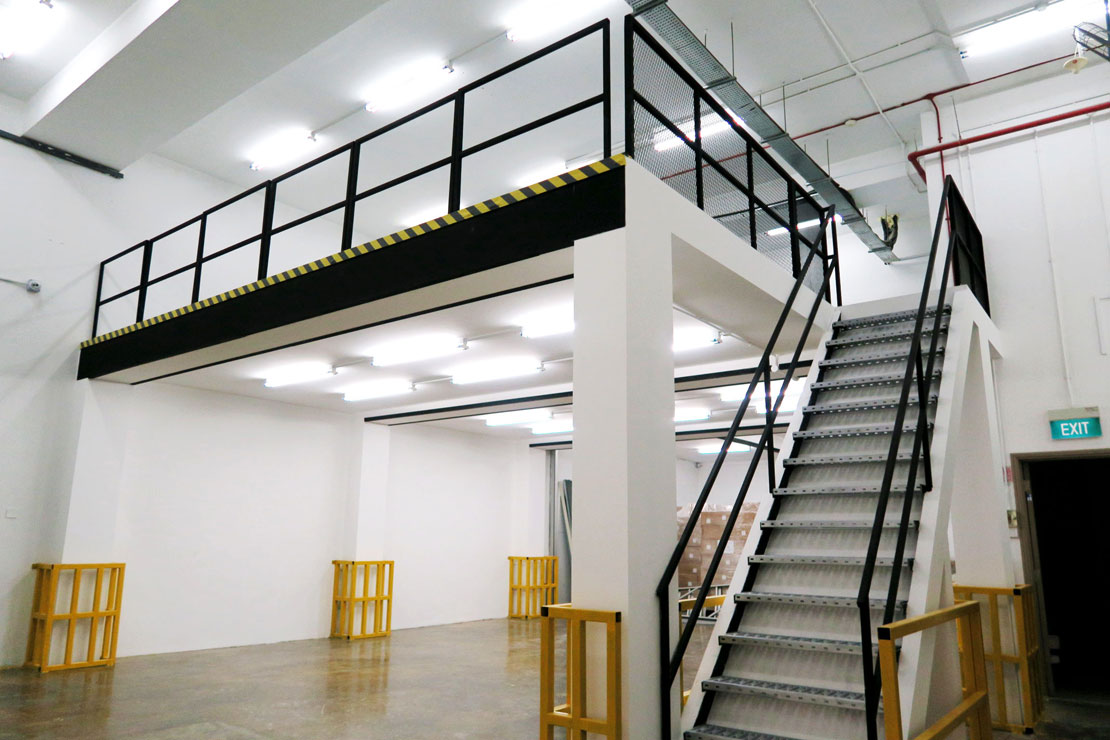 This platform type is our premium model, built to withstand heavy items also meeting the industrial standard. Columns and beams are welded strongly together. The modern design and high-quality steel material will enable the racking system to securely support the entire platform.

This racking system type will guarantee your workers' utmost safety. With a cutting-edge design using utmost premium materials, the V8000 racking system will be a great asset to your company.
Benefits and Disadvantages of a Mezzanine
One of the main advantages of installing a racking system would be having vast amounts of storage space, which can be used to better accommodate your company's operations.

Another advantage of the racking system would be the simple installation and deconstruction of the mezzanine. As these systems are generally free-standing structures, there is no need for the platform level to be mounted onto the walls. This will then ensure a smooth assembling and dismantling process.

The mezzanine platform provides your company with a safer alternative to store, organize, and pack goods. With the use of pre-installed staircases and the option of including an additional walkway for pedestrian access, this solution would make operations more efficient and reliable.

One of the drawbacks of installing a platform would be the cost of investing in one. Although these model types are meant to last in the long run, the initial amount that an organization would have to pay in advance is an issue that discourages most companies from adopting this mezzanine system.

However, there are many government grants available that can be used to help fulfil your wish of adopting a platform level in your company.

These 4 available schemes include the Productivity and Innovation Credit Scheme (PIC), the Innovation and Capability Voucher (ICV), the Capability Development Grant (CDG), and WorkPro.

These schemes allow grants to be given out to a wide range of companies and many small and medium enterprises can definitely gain access to the generous grants provided by the government.

Innovative Ideas for Mezzanine
If you are interested in how this platform structure can work for your company, look at some of the past projects on the mezzanine platform that we helped our valued clients to build.
UT Ways Freight Services Pte Ltd – V3000
UT Ways Freight Services needed a solution that would accommodate its large equipment, but at the same time, to add a clever storage space solution to best suit its operations. We rose to the challenge and provided them with the V3000 Mezzanine that was made using our superior and sturdy material. The system could fit both their equipment and provides the company with ample storage space at the top level to help them with their daily activities.

The V3000 structure platform helped to equip this company with a more organized way to store their items. The wide aisle and tall upright beams allow the equipment to move freely without disrupting the operational flow of the organization.
Lowe Refrigeration Pte Ltd – V3000
Due to the owner's personal schedule, this project was faced with a time constraint, but we were able to transform Lowe Refrigeration's space into something that was multifunctional. Not only did we equip this company with much-needed storage, but we also constructed the V3000 platform system without moving any of the appliances.

This project was able to give the company double the amount of storage space while constructing the system efficiently and reliably. This project goes to show how we can construct the platform with minimal disruptions to your enterprise's operations.
Tuas Supermarket Pte Ltd – V8000
Tuas Supermarket approached us with the intentions of maximizing their space. By implementing the V8000 platform structure, we were able to accommodate the larger machines and were also able to provide an easy storage solution. Furthermore, we were able to maintain the efficiency in the company's operations by installing stairs so that the employees at Tuas Supermarket can access the goods easily and safely.

Having storage space is essential in this industry, and with the use of the platform, this company is able to maximize the space well. The additional staircase and a mezzanine platform level also provided workers with easy access to the goods. This helped to ensure that the working process of the company is not being compromised and that the efficiency of the company can be improved.
CN Canvas – V8000
CN Canvas approached us to provide the company with the ultimate solution to store their materials in a safe and reliable manner. Previously, the company placed all their goods on the floor. Without a proper storage system, the enterprise was unable to make full use of all the space in the building. In addition, the area was messy and disorganized, which may affect the efficiency of the company.

However, with the construction and implementation of the V8000 platform structure, the company is able to maximize the use of their space by placing their goods on the top level of the platform. The company can also put more goods or equipment at the bottom of the system, which will be helpful especially when big orders come in.
Common Use Cases
Warehousing
If you are looking for ideal storage solutions, mezzanine flooring is what you should have. Compared to racking, these floors are often more robust. They should be able to handle most of your storage needs. They also allow for ergonomic warehousing for easy access when required.
Distribution
Markets are bound to go through peaks and dips in demand and supply. This brings about changes in the requirements and capacities of warehouses. The mezzanine platform gives you the ability to plan for space maximization and ease of access in your distribution centres.
Retail
Who likes buying from a crowded shop? With an extra floor, you can maximize your space and display your items in a more appealing way. It gives you more space and allows you to add value to your premises. Of course, with more stock, you should make more sales and get more profit.
Office
If you have a small office, you might want to increase office space. Alternatively, you could be looking to add a manufacturing element to your premises. With an additional floor, you can increase space without losing valuable floor space on the existing levels.
Storage
When space is lacking, use a mezzanine platform to create invaluable storage space. You can use this space for filing, archives, stock, or general storage. As a matter of fact, having a well-designed space helps a growing business immensely.
Production
As businesses begin to grow, it becomes necessary to use the mezzanine platform. It helps you overcome the challenge of creating more space without having to move premises. This ensures you avoid the huge costs associated with the construction of new premises. If there is a need to move your premises, you can also move the entire mezzanine flooring to the new building.
Manufacturing
The best manufacturing premises should be constructed so that they maximize both space and productivity. With an extra floor, you can maximize processes and workflow. This should result in more efficient productivity which will ultimately affect the organization's bottom line. Platform flooring ensures that manufacturing facilities can withstand heavy machinery. It also ensures that it accommodates the many people working in that section.
How You Can Get Started
With the limited amount of space that companies are facing on this tiny island, it is about time that your corporation decides to adopt this platform system. These systems are definitely a great way to utilize every inch of your company's workspace and will provide an increased amount of efficiency and organization to your enterprise.

If you would like to know more about mezzanines and how this solution can help with your company's operations, please do not hesitate to contact us here: (+65) 6635 6687/ (+65) 92721076