V10,000 Super Heavy Duty – Gul Lane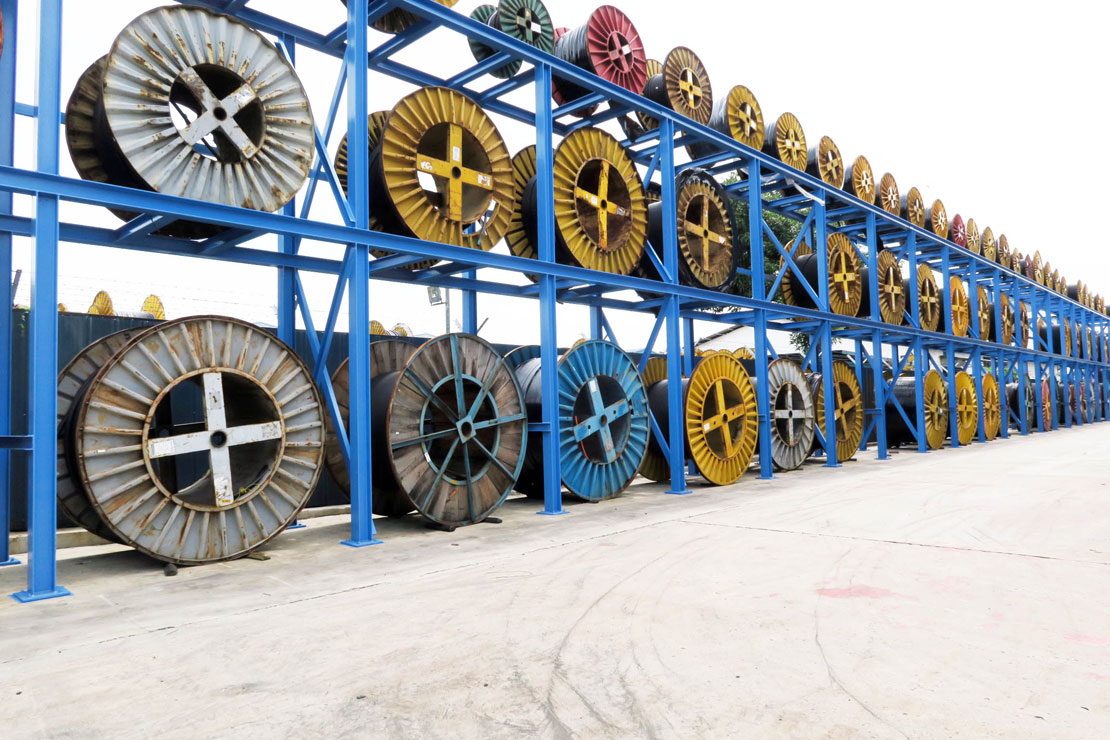 Super Heavy-Duty Racking
Benefits
Robust and uniformed rack structure
Easy installation and repositioning
Adjustable beams suiting any pallet type
Super-heavy V10,000 comprises welded ibeams. Such racks further provide excellent safety against interferences, loss, or beam disengagement.

We only use high-strength quality steel, certified to meet the strictest specifications. All welding operations are controlled and performed by certified welders. A durable coating ensures a long service of rack systems, even under the most demanding industrial conditions.
---
V3000 Heavy - Duty Racking – Gul Lane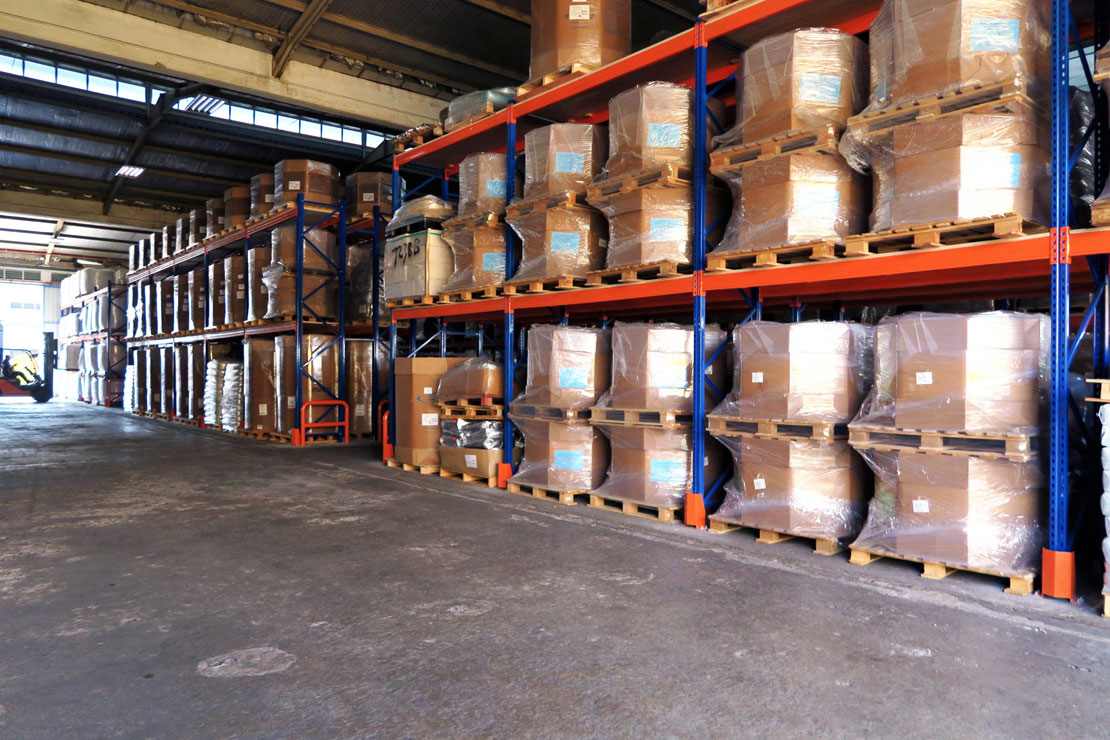 Pallet Racking - Compact Storage Solution
Pallet Racking is an effective storage solution that incorporates the use of pallets in material storage. The material is loaded on the pallets that are kept on racks.

The pallet racks consist of a combination of beams and uprights. The uprights support the structure from the sides, whereas the beams connect the uprights and act as a platform for the pallets.

The pallet rack storage systems by WCT Racking Pte Ltd are designed keeping your load and storage requirements in mind. We aim to provide storage solutions that lead to functional and easily manageable warehouses. Some of the benefits of our pallet racking storage system are.
Saves Space


Our pallet racking systems utilise the warehouse area for maximum storage. The racks can be implemented up to multiple levels vertically, allowing you to store more material in less space.
Convenient To Use


The material is kept on pallets with the help of forklifts. So, the workers can load and unload the pallets conveniently without any hassle.
High Durability


Our racking systems are fit for heavy-duty usage. Made from highly durable material; the racks can withstand higher loads without any issues.
---
V3000 Racking System - Tampines North Drive 1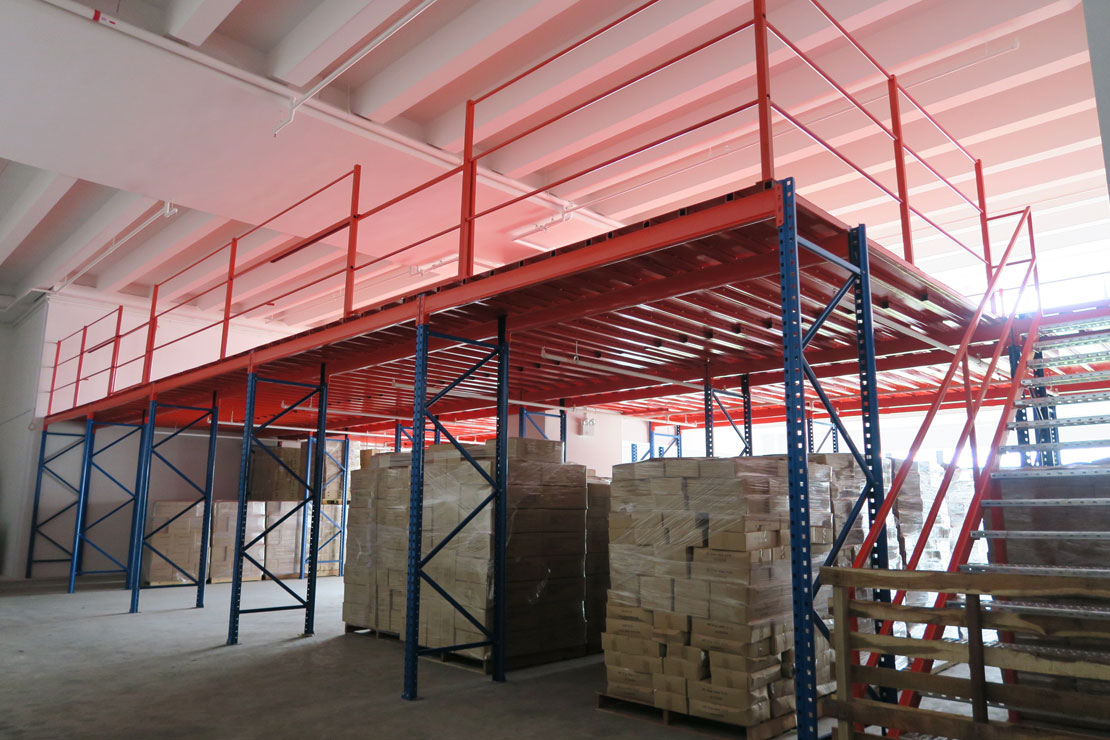 V3000 Racking System
Benefits
UDL 300 KG/M2 – 1000 KG/M2
Modular arrangement
Suitable for storage outlining
Comprises of Support Beams and Uprights

It is a mezzanine system that includes beams, deck, upright, shelves, stairs, etc. New storage floors can be integrated into these racks with walkways to allow for easy order picking by pedestrians. All the handpicking and packaged products are handled with this shelving system because it maximizes the available headroom.

This racking system is best suitable for using the warehouse's space and height and simply accommodating the automated picking system.

Using this racking system, you can maximize the warehouse's area and height while allowing the automated picking system to function.
---
V5000 Racking System - Paya Lebar Road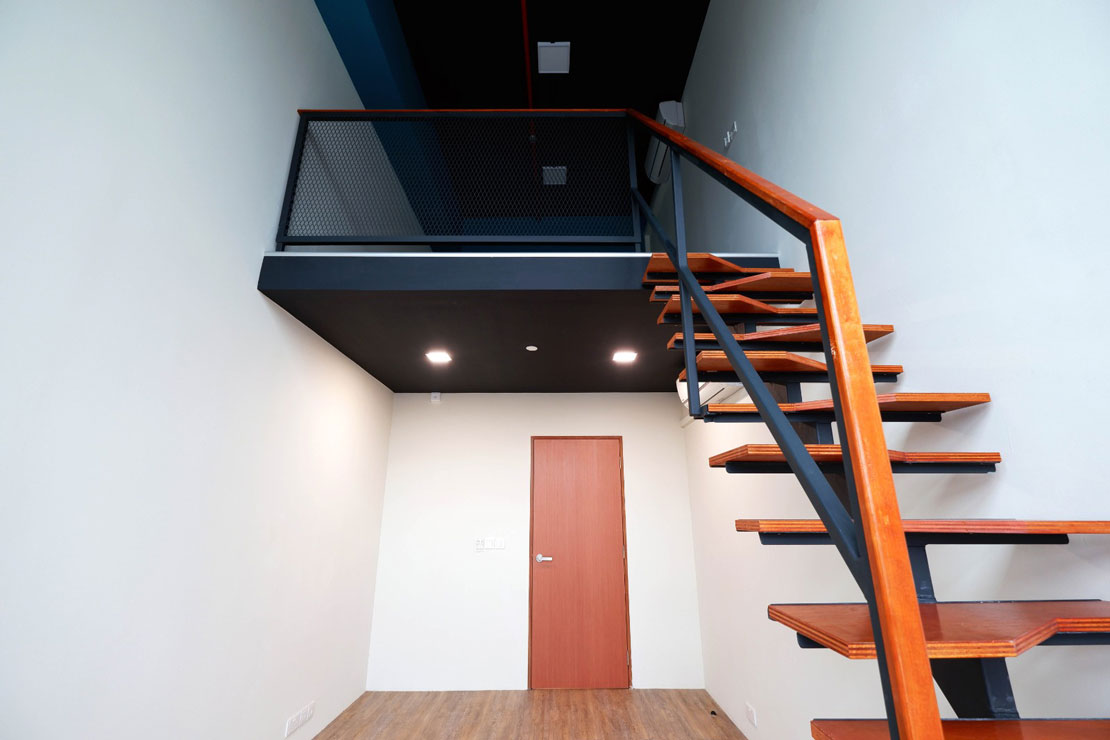 V5000 Racking System
Benefits
UDL 500KG/M2 – 1000KG/M2
Column free
Ideal for commercial / Office storage use
Welded hollow section - column free

V5000 Racking System is our deluxe model. Knowing a well– designed space aids a growing business immensely. So, we carefully strategy a good size built-in platform, that is ideal for all commercial and office storage.

Using all galvanized and white paint coat as finishing, quality steel plank decking platform. Topped with a sturdy and strong ladder to maximize the ground floor usage as well.
---
V6000 Racking System - Pandan Loop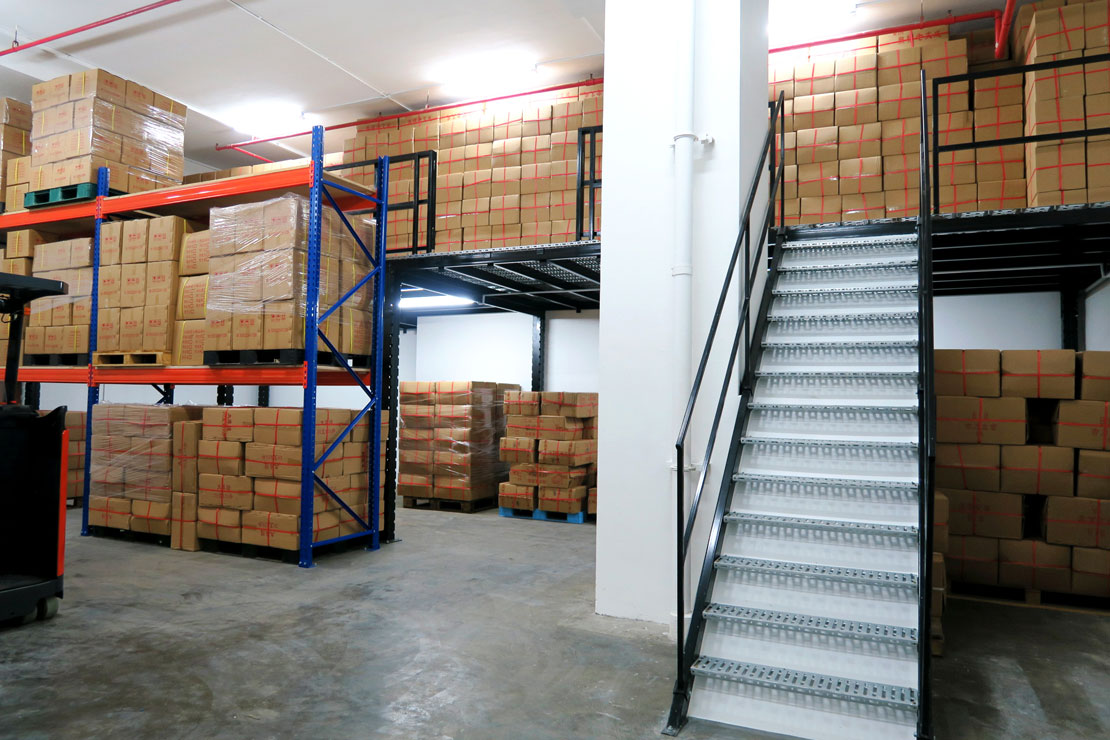 V6000 Racking System
Benefits
UDL 600KG/M2 – 1500KG/M2
Column free, length span to 6 metres
Fast installation, hassle free
V6000 Racking System is our superior model having the ability to achieve fast installation within hours. No welding is used during the entire building up with column free and non-requirement of bolting to the ground for this modular structure. Suitability of using different decking material, having no GFA concern for storage usage.
---
V8000 Racking System - Kaki Bukit Industrial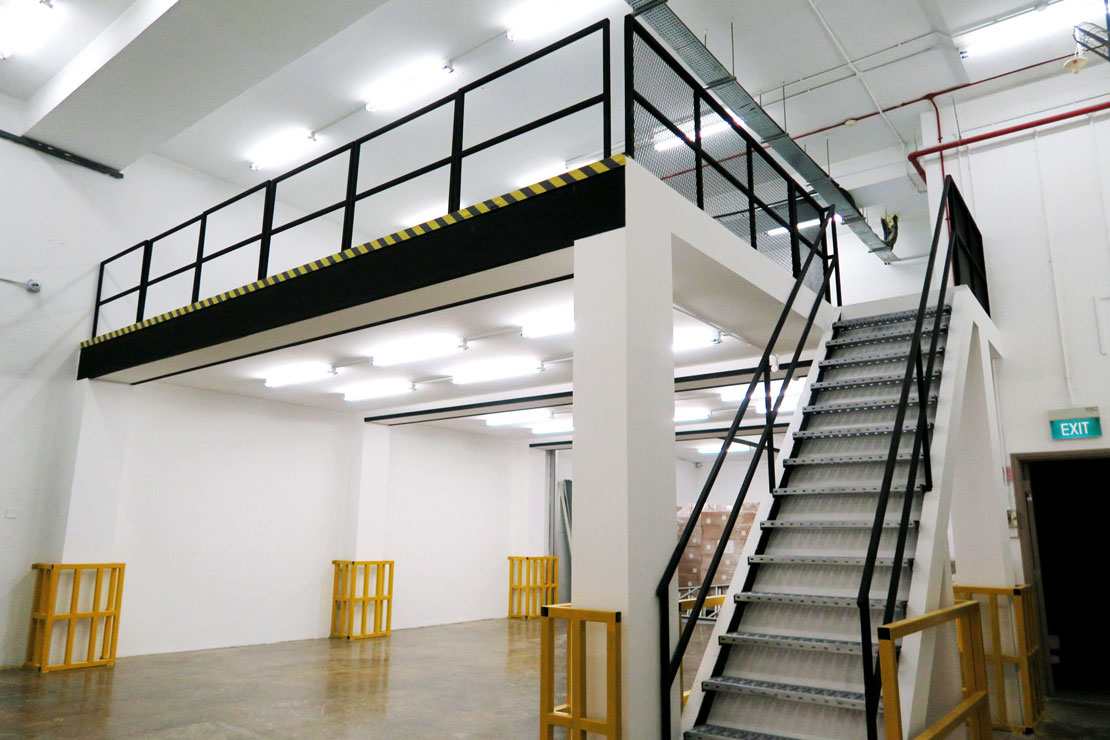 V8000 Racking System
Benefits
Storage Space – CHECKED
URA, SCDF, BCA – CHECKED
UDL 1000KG/M2 – 2000kg/M2
Column free, length span to 10 metres
Bolts and nuts structure
V8000 Racking System is our premium model, built to withstand heavy items also meeting the industrial standard. Columns and beams are welded strongly together. The modern design and high-quality steel material enable the racking system to securely support the entire platform.

This racking system type will guarantee your workers' utmost safety. A cutting-edge design using utmost premium materials, the V8000 racking system will definitely be a great asset to your company.
---
Outdoor Shelter/ Structure Works - 140 Corporation Drive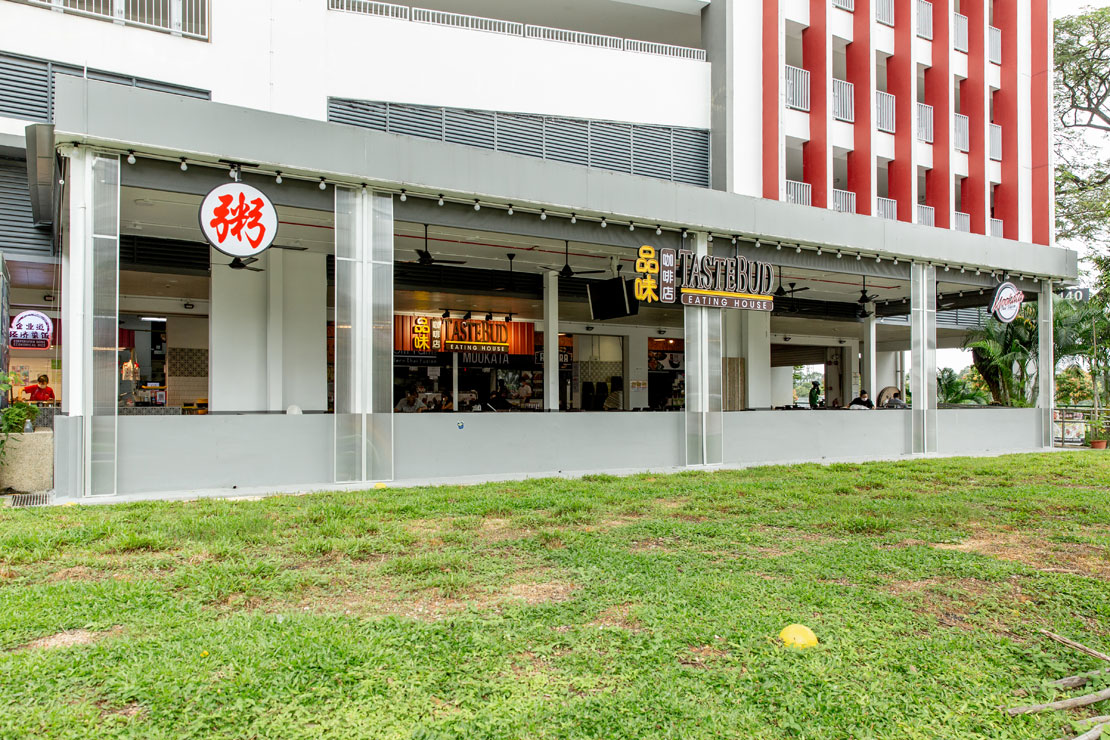 *FULL COMPLETION* of Construction of Structural Sheltered Outdoor Dining Space – 1000sqft

We have successfully constructed first outdoor shelter within the span of 2 months. From a bare collected space to an extensive F&B dining area. Well-furnished lightings and ventilation system is installed to enhance consumer's dining experience.

Welcoming more customers, with the spacious dining area. Especially important during this period, having safe measures distance implemented.

We have accomplished and unlocked our significant project and delivered smoothly to our client in good hands!


---
HDB/BCA/SCDF/URA Submission Consultation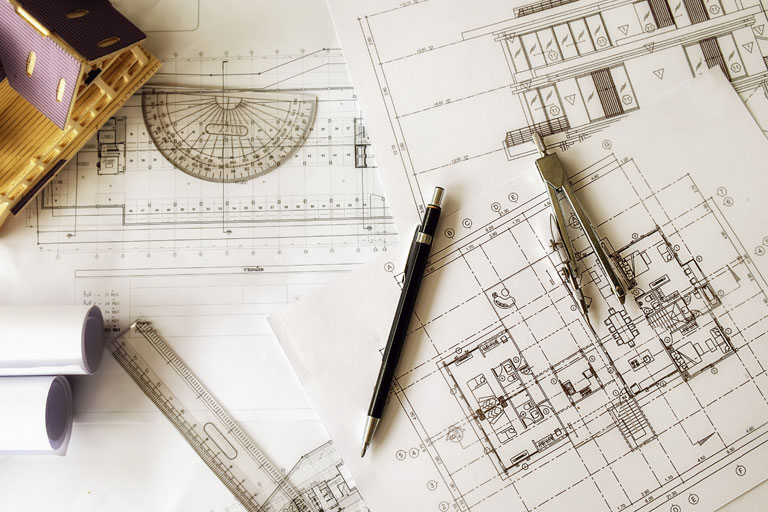 MINIMAL FUSS AND COMPLICATION

BCA - BP/QP calculation?

SCDF - BP/FP/FSC?

URA - GFA Calculation?

How much do you know about submission to the authorities?

In WCT Racking Pte Ltd, we believe that obtaining the necessary certificates from authorities are equally important for long-term smooth business operations and increase higher resale value. With our expertise in doing it the right way, planning and construction of mezzanine and heavy-duty racking in your warehouse for extra storage would double up the benefits as a whole.

We have a team of professionals providing services package as follows,


BCA Submission
SCDF Submission
URA Waiver Exemption
Compliant Racking System and Storage – With General Builder License (GB2)
Our consultants are here to advise and assist you in getting the needed approved submission documents.
We can provide the qualified consultant you need to review, prepare, endorse, and submit the needed documents to the relevant government authorities to obtain the approved documents you need to run your business with peace of mind.